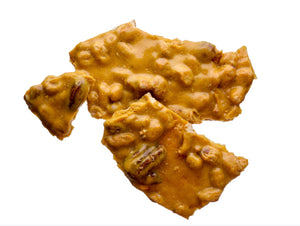 Mixed Nut Brittle
$12.00
Our handmade mixed nut brittle is a must try! Decadent pecans, cashews, peanuts and almonds mixed with our family recipe! You will not be disappointed! 
200g
But Brittle
It was very good. I crushed up some of the nut brittle and put it on ice cream.
Peanut Brittle
Best peanut brittle I've ever had!
LOVED IT
Just Loved all the items i bought from Peanut Brittle to beer nuts….this guy will be ordering more wonderful products….Thank You
Delish
The apples are so fresh and delicious, I tried the keylime pie, lemon meringue and the masterpiece white chocolate, they were all amazing, I will definitely be placing another order.