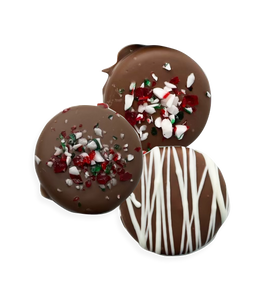 Holiday Oreo Cookies
$8.00
3 Oreo Cookies dipped in milk Belgian chocolate and topped with crushed candy cane or white Belgian Chocolate.
Oreo!
They were scrumptious but I was hoping they would somehow transform to be gigantic!! Now THAT would have been a Christmas cookie !!!
Debbie Lee🥰🎄🎁
Sooooo good
Love these. I only ordered 1 pack for me and ate them all in 1 day. Need to order more next time.